Products List
Contact Us
Home fresh air recuperator Heat exchangers
Product description
Home fresh air recuperator Heat exchangers recuperator heat via a cross flow heat exchanger core.Though the exchange of indoor and outdoor air, the unit not only can provides fresh air and comfortable temperature to indoor, but also recover energy and save power.
Detail of ERA heat exchanger core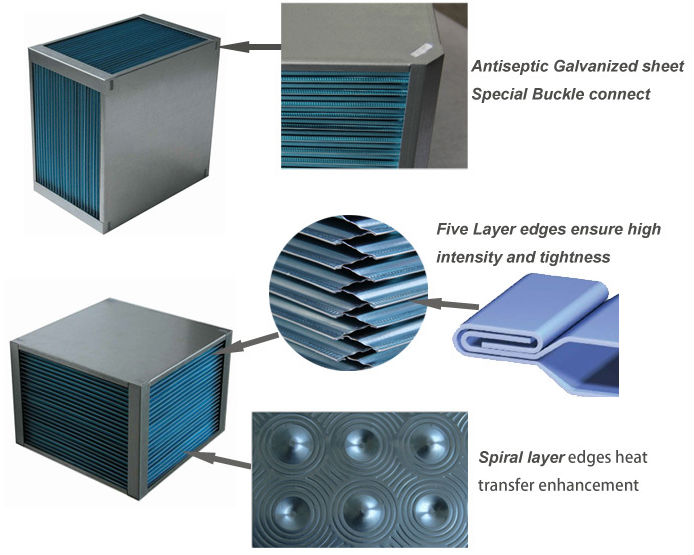 Features:
1.Energy Saving
Crossflow energy recovery unit, use patent technology, improved the energy recovery efficiency, reduced the air flow resistance
2.Application Range
Air flow 200~6000m3/h, suitable for residence, meeting room, office, machine room and industrial occasions which contains stink, dust, bacteria, viruses.
3.Convenient Installation
Machine installed in ceiling, do not occupy in-room space, do not affect interior decoration, various tuyeres, multiple choice, easy to installation.
4.Low Noise
Optimized structure design, used sound-absorbing material and nonmetallic impeller, guaranteed the good static sound effect.
5.Complete Function
Two-way air exchange, air purification, energy recovery and so on, easy to control.
Performance Parameter
Model

Air Volume

(m3/h)

Static Pressure

(Pa)

Volts/Hz

Motor

Power (Kw)

Temp.

Efficiency

(%)

Noise [dB(A)]

Dimension

(mm)

Re.

Weight (kg)

H-02D
200
40
220V-1-50Hz
0.016*2
77
30
665x580x293
30
H-03D
300
50
220V-1-50Hz
0.03*2
77
32
745x600x293
35
H-04D
400
55
220V-1-50Hz
0.04*2
78
34
745x800x293
42
H-06D
600
110
220V-1-50Hz
0.15*2
76
35
820x900x293
50
H-08D
800
110
220V-1-50Hz
0.15*2
76
37
1110x880x413
76
H-10D
1000
130
220V-1-50Hz
0.20*2
75
38
1110x1135x413
96
H-16D
1500
150
380V-3-50Hz
0.37*2
73
48
1350x940x500
142
H-20D
2000
150
380V-3-50Hz
0.45*2
73
53
1460x1020x500
166
H-25D
2500
160
380V-3-50Hz
0.55*2
74
56
1460x1020x600
182
H-30D
3000
190
380V-3-50Hz
0.80*2
74
59
1600x1100x540
196
H-35D
3500
100
380V-3-50Hz
2345
70
61
1600X1100X620
230
H-40D
4000
210
380V-3-50Hz
1.00*2
75
62
1750X1210X600
260
H-55D
5000
210
380V-3-50Hz
1.80*2
75
65
1800X1210X760
330
H-60D
6000
240
380V-3-50Hz
1.80*2
76
66
1850X1210X900
370
Installation drawing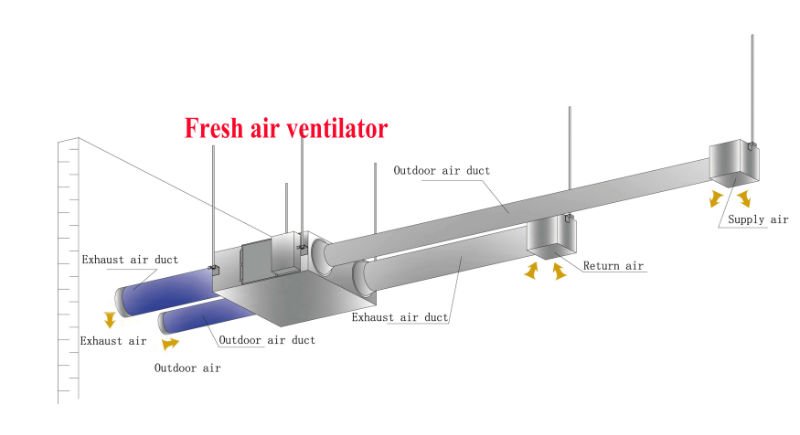 CE Certification: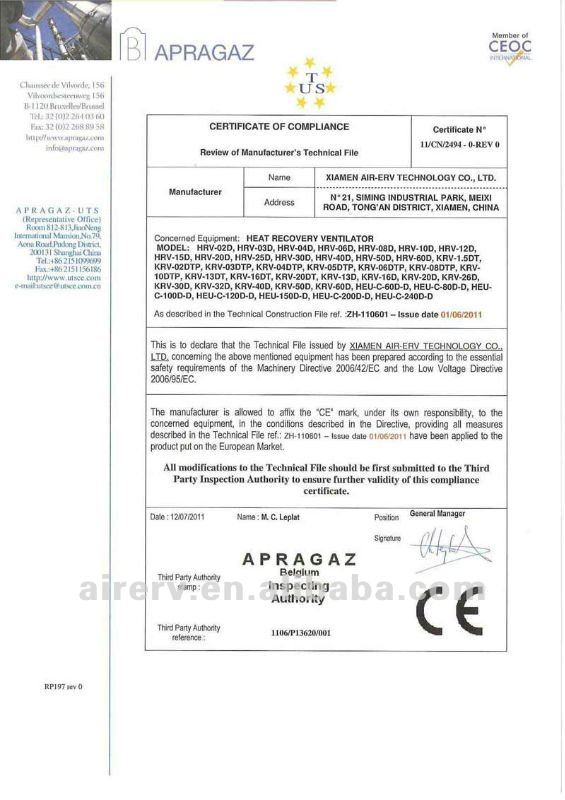 XIAMEN AIR-ERV Technology Co., Ltd
Mob: 86-15105979197
Tel : 86-592-5769019 Fax: 86-592-5769020
ADD: No.21,Siming Industrial Park,Meixi Road,Tongan District,Xiamen,China
Previous :Energy ventilation system heat recovery exchanger
Next :low cost heat recovery ventilation system
XIAMEN AIR-ERV Technology Co., Ltd
Tel: +86-86-592-5769019
Fax:+86-0592-7155233
Contact Person: Jeffrey
Mobile:+86-15105979197
Website:www.airerv.com